My Workings of the Divine
Filled with the nostalgia of my multiple workings at the extinct Geocities, I decided to start this one...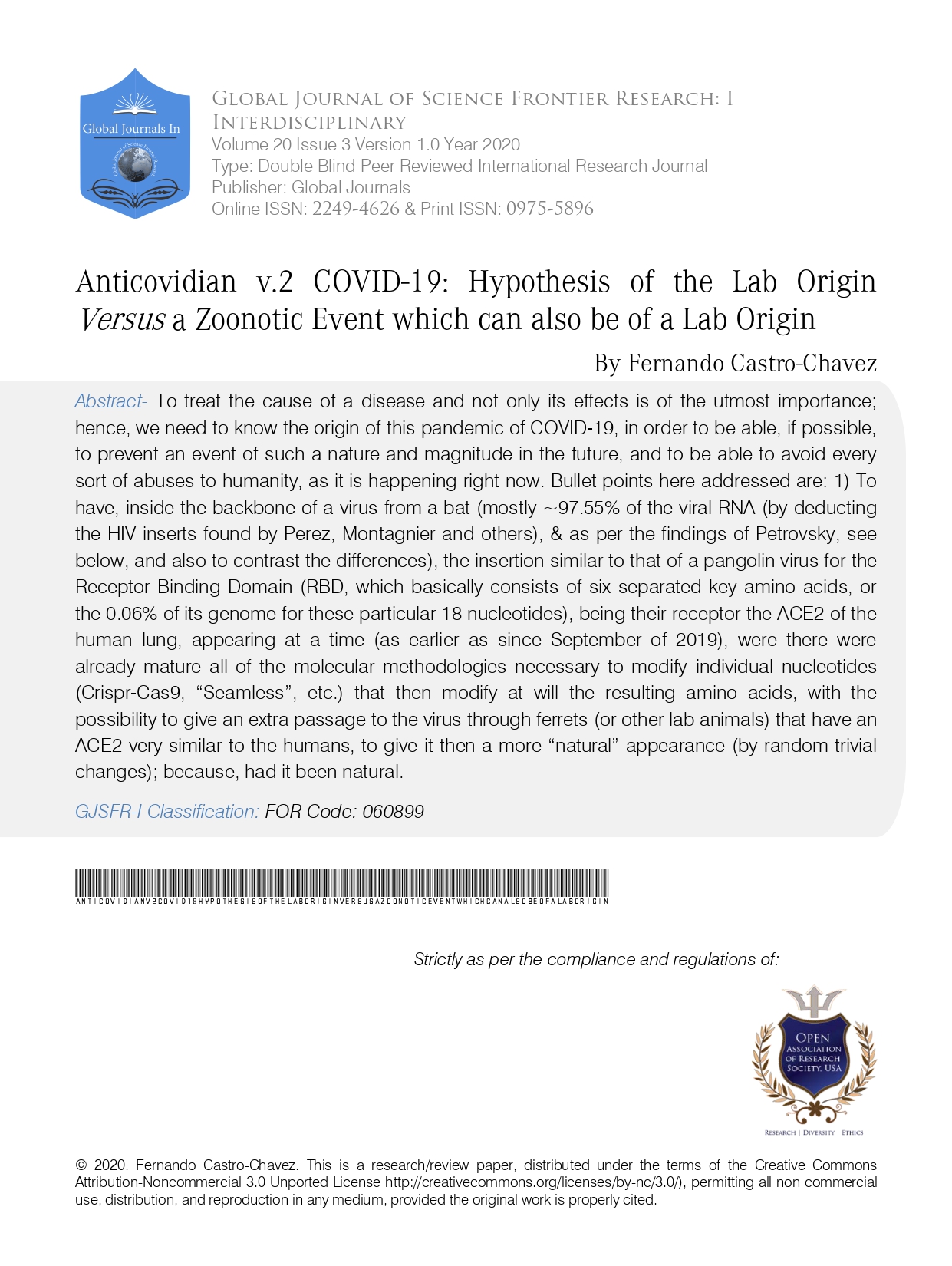 Anticovidian v.2 COVID-19: Hypothesis of the Lab Origin Versus a Zoonotic Event which can also be of a Lab Origin


Anticovidian V.2: COVID-19 (the full issue where it is contained)


Anticovidian V.2: COVID-19 (with the special addition of separating at the right side the 207 additional links contained within my article!)



Vital Updates as per the current events:

My Letters to Francis S. Collins, NIH director during the year of the COVID-19 release.


Video - Entrevista 1: ¿De dónde viene el COVID-19?


Video - Entrevista 2: ¡Artificialidad en el 9/11 y en COVID-19! (Removed by the corrupt facebook)


Video - Entrevista 3: Cientos de Científicos denuncian la Artificialidad del COVID-19 (Removed by the corrupt facebook)



Given the shameless and merciless removals of postings and videos of mine by facebook, who corrupted itself completely by censoring free speech in many areas, currently mostly in the artificial and deliberate origins of COVID-19 and even by puttig money for the stealing of an election, going all of these things against the American spirit; so, here I am uploading what I is mine, that I am rescuing from the horrible and traitor facebook:

The first, lame and raw page that the facebook tosses at us, the users that provide the real "strength" of cheating platforms such as that one, when we want our information back



As the original videos can not be loaded here the next is the link of the videos and three of the photos as well:

https://photos.app.goo.gl/5VTf8SH3pQwJWqUX6


https://photos.app.goo.gl/SJn4EK2xAvyUA9rm6


https://photos.app.goo.gl/7gRB2apkbjraAcrT7


https://photos.app.goo.gl/f9WuTy2jy4EWztnv5

And then, to keep the records of history, some of the removed things from elsewhere, a note of mine that mercilessly ResearchGate removed with no reason whatsoever:

Praising the initial standing of Nikolai Petrovski.


The Poisoned Needle and 25 more related books for you to be fully informed (bundle removed from Archive dot org, saved at: https://archive.vn/55J3G).


My Judy Mikovits illustrated was removed from the YouTube, again with no explanation whatsoever.


This is the second part of that modest homage to Mikovits by me (I have not been able to recover all that I had, as a third part is missing...).


Finally, this is the third part of my homage for Mikovits!, as I know how hard it is to publish an article, and she had 50 outstanding articles!!! In her last, thus far interview at Paine, I was able to illustrate only less than 14 of her scientific publications.


YouTube also had the cynicism to remove this one, even when other versions of the same are still, fortunately, there, my sin was to point my fingers to the far away deceptive kingdom of Khazaria and its minions.


This is the first part of that and even when it is missing a lot, like the initial HOLOGRAMS that took the place of the "planes", there were NO real planes on 9/11...


Facebook also wanted to be at the vanguard of the CCP of China's style communist censorship (as desired by Rockefeller and Gates, in their "Lock Step" discussion from 2010), so they removed without even giving any logical reason, my postings on RaTG13 (then, as in the other cases, even more, such as the one with the link of "NerdHasPower").


Link removed by Facebook (the bold observations of that valiant whistleblower that defected from Hong Kong to the USA).


Post removed by ResearchGate.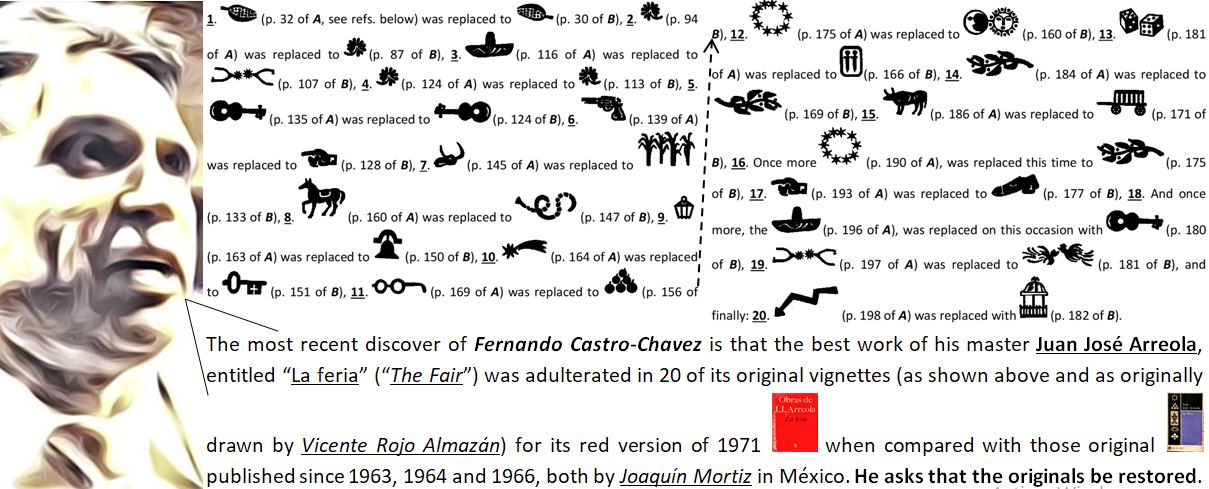 [The image of me is one from my class of "Arreolanza", my book, which was presented on the 27 of Nov., 2018, at the "Casa Taller Literario Juan José Arreola", Zapotán el Grande, MX, at about 9 P.M.; I am requesting that his original vignettes of 1963, including its cover, be restored in his book "La feria"! (Note: In the image above: "A" corresponds to the original edition of 1963 of "La feria" ("The Fair", which is the purple cover), and "B", which corresponds to its adulterated edition by "Joaquín Mortiz" of 1971 (the red cover, above))]
However, I will tray to keep this site as simple as possible: the important thing is what is being said, the information, more than any of the aesthetics adorning it. This time I wish to keep a record of it from day one, as to prevent what has happened in the past: The loss of all my numerous and unlinked, never recovered again, files and information due to the unilateral decision of their last owners...: https://fdocc.neocities.org (Archived).
So, my name as a writer of scientific articles is Fernando Castro-Chavez and the language I was born is the Spanish, so here I hope to put things both in English, my adopted language, and in Spanish, my native tongue.
So the list of things that will be included in what my life is and aspires to be, is the next one:
1. Love
2. Bible
3. Science
4. Literature
5. Justice
6. Wife
7. Family

Now, I have put "Wife" and "Family" last, not because they are the least important, but because at the current time of me writing this things, today, this morning(15/01/19), they today are still like a dream, like an ilusion that are more slowly than what I wanted, coming to me... another thing, that may be the eight point, not by my personal desires but as the real need once having the last two points stated before, will be:

8. "Money"

Notice that I have put it within quotation marks, as it is something that will be "necessary", I think, under the current fallen conditions of reality... And well, maybe the number nine will be, to bind the rest of things that are interesting or important to me, which are music and visuals (also in quotemarks as I did put in the fourth number above a piece of it, plus others after that as they may appear, either by the family or by the circumstances...):

9. "Art"

And, of course, I was unable to leave aside a page where I could link music and other memorable things of my life:

10. Memories

And, in my desire to promote new writers, I leave to you this new page: Y, en mi deseo de promover a nuevos escritores, les dejo esta nueva página:

11. New Voices: Nuevas voces

And next is the way in which this same page of mine has been catalogued by LinkedIn, where I have some of my working things:

https://lnkd.in/gtGv326

And then, my conversation with my best headhunter: Michael Jagdeo, living in Canada, regarding this my homepage, which according to me is in "the neighborhood" of: "The son of Geocitites" (Hehee):

https://www.linkedin.com/feed/update/urn:li:activity:6492052352101683201/

Then, we used to have MIDI melodies putting the ambience of our old Geocities homepages (but..., after a while that same music got annoying and... once saved at the "Archive.org", every time I open there those my old pages that had such MIDI music, an annoying download of that MIDI file always happens! With no way now to prevent that to happen), and for those reasons: Here, instead of putting an "automatic" annoying MIDI, I put the link to an mp3 that I really like as a background related music for this my first page, and in such a discrete "modern" way, I will be "musicalizing" the rest of my pages: I hope you like this, an original music that was my favorite in the good-ol' 80s from Guadalajara, MX (Ah! And I myself did also the capture of this melody on the Archive two days ago, for y'all to enjoy it!):

http://www.arpef.com/albatros/paty.mp3

/////////////////////////////////////////////////////////////////////////////////////////////////////////////

Wishing to keep the original presentation of this free hosting site for the historical record, here we have it:

Welcome to my Website!

This is a paragraph! Here's how you make a link: Neocities.

Here's how you can make bold and italic text.

Here's how you can add an image:

The link to the editor that you always forget:

Here's how to make a list:

First thing
Second thing
Third thing

To learn more HTML/CSS, check out these tutorials!